TEADAL and TRUSTEE collaboration at EBDVF 2023
We invite you to join us at the upcoming European Big Data Value Forum 2023, the flagship event of the Big Data Value Association.
TEADAL and TRUSTEE projects have joined hands to showcase their individual architectures and the challenges they address in creating trustworthy, secure and energy efficient federated data spaces.
Where: Valencia, Spain | When: 25 – 27 October 2023
TEADAL/TRUSTEE session: 27th October 2023, 11:30 – 12:30
Register: https://european-big-data-value-forum.eu/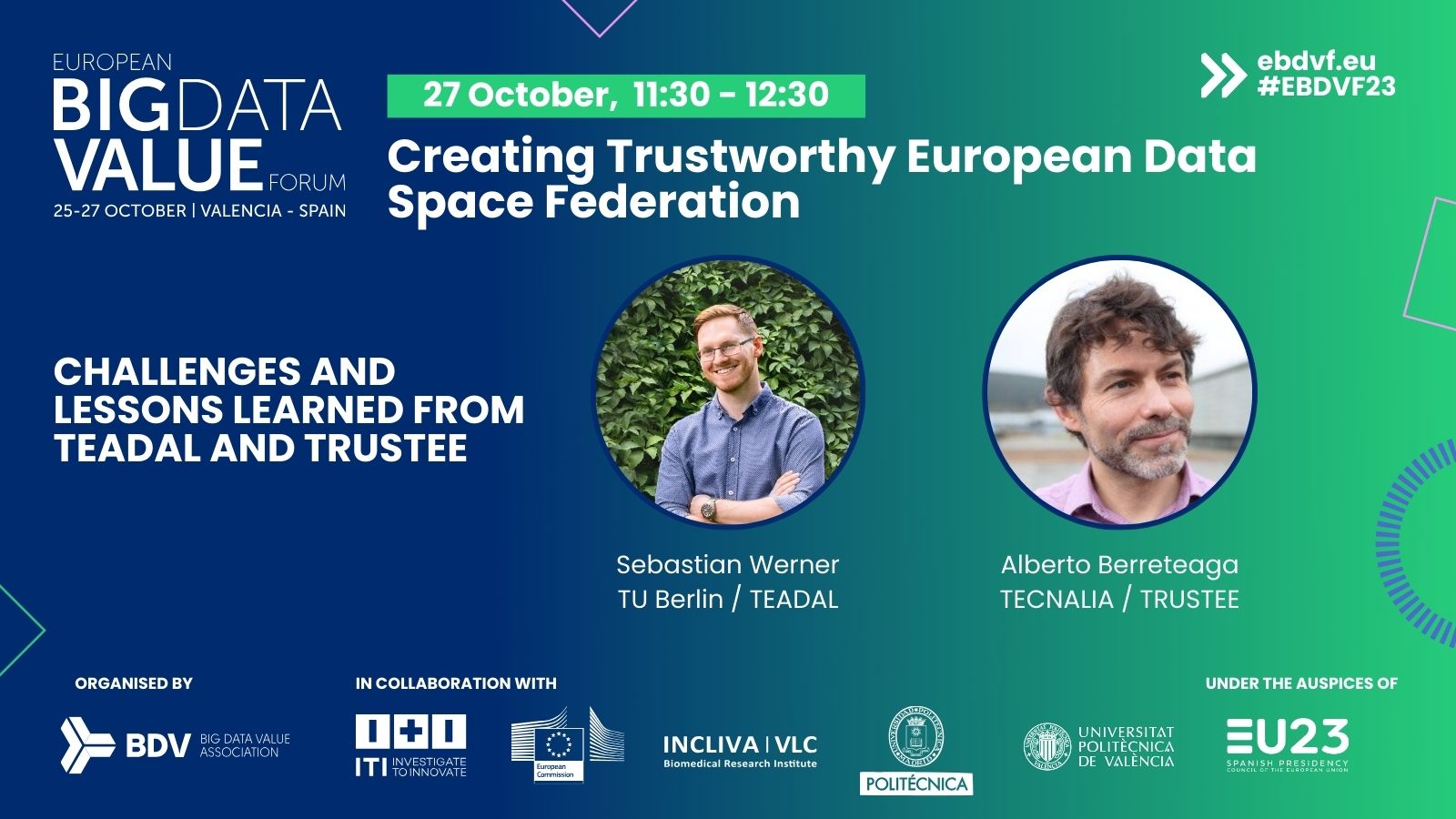 What is the event?
EBDVF is "the flagship event of the European Big Data Value and Data-Driven AI Research and Innovation community!". The motto of this year is DATA AND AI IN ACTION: SUSTAINABLE IMPACT AND FUTURE REALITIES.
What are we 2 projects going to discuss?
Meet our colleagues Dr. Sebastian Werner, Technische Universität Berlin representing the TEADAL project who will present the architecture and advancements in the TEADAL platform.
Our colleague Alberto Berreteaga Barbero, TECNALIA Research & Innovation, who represents the TRUSTEE project, will present the architecture of their platform and the linkages with Gaia-X Association for Data and Cloud (AISBL).
In this session, you will learn about the developments on the 2 platforms and how they are enabling trustworthy datasharing across dataspaces federations.
Get in touch with TEADAL via X or via LinkedIn.